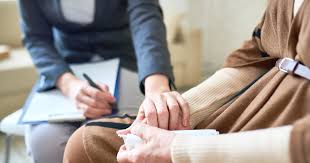 Due to our busy schedules it is hard to take the time to find a therapist to help with our mental health needs. It feels like you are dating and are waiting for the "right match" to come along.
In this blog I have written some tidbits that may help for when you are searching for the right match.
Determine the type of professional that you need: if you are experiencing anxiety, depression, adjustment disorders, or family conflict you may want to meet with a social worker or psychologist. If you are experiencing bi-polar disorder, schizophrenia, etc you may want to meet with a psychiatrist or psychologist.
Chemistry: You want to make sure that you have a strong connection with your therapist. Building a safe, compassionate, and trusting environment will allow you to fully express yourself. You want to be able to share your thoughts and feelings without feeling judged.
Interview your therapist- it is important that you ask your therapist questions about themselves. Ask them why they enjoy counseling, read the therapists reviews and testimonials, ask about their professional licenses, and ask the therapist about the schools they attended.
Affordable options: Always look and see if your insurance covers the services that are being provided. You may find that paying cash for these services are cheaper then using your insurance. Therapists should suggest developing a payment plan and a flexible treatment schedule. Everything is negotiable. If the therapist is not being negotiable then they may not be the best fit.
Therapy Process- It may take a few sessions to build a trusting relationship with each other. Soon after, the transformation will begin. You will develop skills in order to cope. It is best to develop a therapy plan with your therapist. Therapy doesn't have to be long-term; however, some individuals benefit from long term therapy.
If you have any further questions about this blog and finding your best fit, please feel free to contact me at 970-573-1655.
Much gratitude,
Mallorie Smolen LCSW